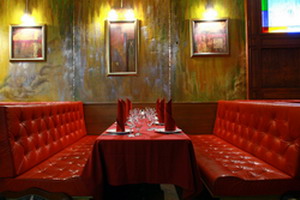 Rarely do I venture further past two metro stations past the ring line in Moscow, unless I am going to an airport or on a train out of town. Call me lazy, but it is just the routine I have settled into. I don't drive in Moscow anymore, don't like paying more than 200 Rbs to get anywhere (because you pay the same amount or more back), and am either suffocated or frankly just depressed these days by the Moscow metro (especially after
LA Times
correspondent Megan Stack's op-ed in
The Moscow Times
a few weeks back about stray dogs in the metro). So it took a little coaxing to venture to the VDNKh region to sample what I was informed to be an English Pub, the Jolly Dog.
A quick aside as I am always pre-occupied with names of establishments (
"What's in a name?"
)… I am not a Brit, so may be missing some literary or pub culture reference every good Englishman knows, but Jolly Dog? On my way there I could not get out of my head the commercial jingle for "Lucky Dog" dog food as a kid in the US, and then - thinking about my daily rides in the metro – about how no dogs in this town are very jolly in the least (again, the op-ed mentioned above comes to mind). However, this pre-occupation with the pub's name subsided to my pre-occupation with actually finding the Jolly Dog….
Jolly Dog is located in the north of Moscow, quite peculiarly located in the basement of a Ssang Yong car dealership – which is equally peculiarly located on a large meridian traffic island of an arterial interchange – just north of the RamStore off of Sheremyetevskaya Ulitsa (there is definitely a story behind the odd location that I still need to find out). Knowing all of this will actually help you find it with GPS accuracy, but getting there for the first time was a challenge that even Google maps on my iPhone could not help with. I took the metro to Timiryazevskaya with the intent of flagging a car, but ended up taking a marshrutka (an adventure my date of course just loved) as no gypsy cabs were in sight. Getting dropped off at the lonely cross street near the Jolly Dog was almost like an existential experience – comparing the address written on your crumpled piece of paper and the addresses on the surrounding buildings, I looked around and knew it should be there, but it was not. I felt cold and alone, and that my trip north had no meaning, but a friendly voice answering my call for guidance told me to head for Ssang Yong, who gave me hope.…
….and food, and a good beer. Descending into the Jolly Dog made me feel I was back in central Moscow again, and by some stretch of the imagination perhaps in a London pub. Lots of leather booths, varnished wood, and paintings adorning the walls quickly warmed my soul. Opening the Russian language menu (no English menu offered just yet), complete with the listings of exact metric proportions of each dish, I quickly found the drinks section and ordered a pint of Bowman's (220 Rbs), while my Polish date ordered a Finnish Lapin Kulta (140 Rbs). Overall the menu could be considered an inspiration to Anglo-Russo relations, a harmonious compromise between the two where each seem to share a common cultural space. Not fully English, and not fully Russian.
Cold starters ranged from 140 Rbs (herring) to 350 Rbs (fish plate), with salmon carpaccio (260 Rbs) and cheese plate (350 Rbs) in between. We skipped the cold starters, though, as soon as we spotted a wide selection of yummy, greasy bar food – fried cheese (150 Rbs), nachos (180 Rbs), onion rings (150 Rbs), fried calamari (180 Rbs) as well as more higher-end bar food such as warm mussels (490 Rbs). We opted for the fried calamari rings, but regretfully did not try the sampler plate. The calamari came out within minutes, hot and greasy, albeit a bit over fried – but no matter as I was hungry; existentialism be damned – I felt alive with each greasy, fishy bite!
Salads were not your garden variety – literally. Most of the salads in the selection were made from some type of meat (I recall a tongue salad for 290). However, the salads that we did try – those that had some greens – were excellent and some of the best salads I have frankly had in Moscow. Really. My Polish date for the evening had the chicken heart salad (250 Rbs), and commented it was one of the best salads she has had since coming to . I had the Scottish salad, a delicious salad of greens, ruccola, goat cheese, and toast tips (290 Rbs) and was also quite impressed. The ruccola was fresh-picked fresh.
Already feeling quite warmed by the surroundings and excellent service, we skipped the selection of soups were (160-180 Rbs, standard fare of mushroom, chicken, pea, etc.) and moved on directly to the main courses which covered at least four pages ranging from basic club sandwiches (240 Rbs), homemade sausages (220-460 Rbs), seabass (950 Rbs), and pheasant stuffed with walnuts and red whortberries (brusnika) at 440 Rbs which was my first choice, but alas they were out of pheasant and unwilling to improvise with other poultry meats at my suggestion. The menu had a whole page dedicated to beef, including T-Bone steak (850 Rbs) and "21st Day Veal" (950 Rbs), a dish whose name I really don't want to understand.
Like the good Polyachka she is, my date ordered the homemade sausages and said they were the best she has had east of Warsaw (again, neither of us are English, so London not our first point of reference). I felt a suddenly strange onset of Russophilia in the English surroundings, and opted for the chicken tabaka (250 Rbs). The whole chicken was succulent, moist, and most incredible of all – boneless! A whole, flat baked chicken before me, with barely a wingbone to gnaw on. My compliments indeed to the culinary talents of the chef.
I've read other recent reviews of new and tasty neighborhood restaurants opening up outside the ring that are worth a visit, and the Jolly Dog is indeed one of them. I still marvel at its most unique location, but once there you do indeed forget about how you got there (and how to get back). The food was extremely fresh, and the service very prompt and polite. The Jolly Dog maintains a bit of its Russian character, but is quite a jolly good place to go. Call ahead for reservations as they tend to book up days in advance on the weekends, and go ahead and book a taxi too.
06.03.08