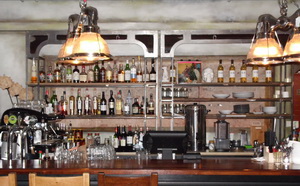 Chugunny Most, a stylish gastro-pub on Pyatnitskaya, found a neat way of grabbing some publicity late last year. After PM Dmitry Medvedev publically lamented that it was difficult for him and his fellow bureaucrats were on the look-out for a suitable place to celebrate their New Year's party, the owners immediately invited him to drop in and check out what they could offer. After all, with the state seemingly eager to support Russian business in these straightened times, it should have been a good deal for all.
Sadly Dmitry Anatolevich and his eminent companions didn't manage to get a festive booking together in time; those who do get it together for a visit can expect a fine feeding from the latest venture of the people behind the well-regarded 'Krylashki and Nogki' venues that brought the whole gastro-pub concept to Moscow a couple of years back.
That story was shared over a serving of a classic 'herring-and-potato' salad that goes a long way towards explaining what Chugunny Most is all about. The food is – for the most part – simple and unpretentious, the kind of thing your babushka would make. But it's presented with the quality and imagination that lifts it above the mundane stodge of so much everyday Russian food, and the menu demonstrates a sharp awareness that contemporary Russian cuisine doesn't need to restrict itself purely to Russian food traditions and can draw on ideas from around the world without sacrificing its identity.
Chugunny Most – which means 'cast-iron bridge' takes its name from the bridge that carries Pyatnitskaya over the water toward Balchug and the city center. Today, admittedly, the bridge itself is a 1960s concrete affair and Pyatnitskaya is no longer the commercial heart of Old Moscow, but as the region reinvents itself as a more recreational district with a largely pedestrianized area around the metro stations the cafe is well placed to attract discerning diners.
The menu is extensive and imaginative, offering a wide range of snacks for sharing over a glass of wine as well as bunch of heartier dishes if you're looking for a full-on feed. The accent is eclectic, with an emphasis on subtly reworking some old classics or presenting new flavor combinations. In keeping with the whole gastro-ethos, close attention is paid to sourcing good, fresh ingredients and serving them in an affordable format. It's another welcome addition to the range of middle-ground restaurants in Moscow that are steadily bridging the gap between 'pafosny' overpriced nonsense and alarmingly basic canteens.
What does that mean in practice? Well, it means soups like the 'mushroom cappuccino', pitched somewhere between a mousse and a souffle and rich in warm, earthy flavors of fungus. It's a million miles away from traditional Russian soups, or even the tins of Heinz cream of mushroom that popped up in my childhood … and it's much better than either. It means exploring what can be done with the Mimosa salad when you ditch the sorry, stale ingredients left over at the back of the fridge, replace the sad, dried, unidentifiable fish with ocean-fresh crab and think through the presentation to ensure that an old familiar cannot be taken for granted.
Elsewhere on the menu, it's hard to beat a simple starter of tomato and quinoa – just for the explosion of fresh flavors that accompanies every mouthful. Even a committed meat-eater with a deep-seated suspicion of anything that smacks of a salad should find something to enjoy here.
The urge to highlight how ordinary food can be enhanced with some culinary TLC also transforms the golubtsy. These parcels of meat cooked in cabbage leaves can so easily come out as a formless mess, so it's reassuring to see it arrive on the plate with foliage that still packs a bit of crunch when you bite into it. Swimming in a rich, creamy sauce also makes this one a winner.
One of the most popular dishes from Dmitry Zotov's kitchens at 'Krylashki I Nogki' has made the trip over the river to Zamoskvarechiye – the turkey falafel is on the menu here and matches up to its colleague. This has become one of the foodie favorites around Moscow and is a welcome addition here.
Not everything was a hit, of course – the bruschetta on offer were solid rather than spectacular, and the same criticism might be applied to some of the desserts. But even if a Chugunny Most disappoints slightly, that is more a reflection of the high overall standards here.
While we were guided through the menu by our host, and got to sample a fair selection of what was on offer, there's still plenty on the list to encourage future visits. The Moroccan soup and the baked goat that were on offer when we visited certainly caught the eye, while there's a frequent rotation of dishes to ensure that there's always something new to nibble on.
01.02.15