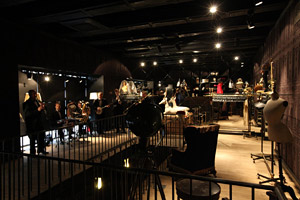 According to the PR blurb, Oldich's name is partly intended to evoke the ethos (although not, quite, the spelling) of London's Shoreditch, while carrying an air of retro chic. Adverts for staff have demanded a bilingual Russian-English work-force with a keen interest in classic fashion and quirky originality. And the "Dress and Drink" bit handles the two facets of a venue which is a vintage clothes store up top, and bar below. With an active program of live music and DJs, plus themed parties and literary evenings, it's pitching for the same crowd which currently sees the Krasny Oktyabr hub as its preferred point of pilgrimage - news that is likely to distress as many as it delights.
Setting prejudice aside, though, the bar/restaurant section has plenty going for it - once you get in. Arriving in the evening, when the upstairs shop is winding down, the bar possibly takes its 'hidden' vibe a bit too seriously - you'd be forgiven for missing it completely from the street, and even after gambling on plunging into the shop, there's scant evidence of what lies beneath. The management likes to reference Alice in Wonderland and its magical rabbit warrens; those of us who aren't acquainted with Mad Hatters may struggle to keep up.
Still, a willfully obscure location didn't dampen the popularity of the late, lamented Proekt OGI, and like that bunker venue, Oldich has character to burn. With heavy wooden tables and comfortable armchairs, it's a roaring open fire away from being the perfect place to gather for an intimate tete-a-tete over exclusive spirits and exotic cigars. Admittedly the sense of intimacy was heightened - uncomfortably so - by being the only diners on a dreary March Monday which seemed committed to denying any hope of spring returning, but even on a busier night it seems likely to be cozy rather than cramped. Plus, for a larger group, there's a separate room with a full-size dining table. There's serious attention to design detail as well: the crockery has been sourced from vintage markets in London, while the toilets feature retro-erotica wallpaper and voluptuous framed fabric over the pot - go pay a visit, and you'll see what I mean.
Given its Cool Britannia ambitions, it's only fair to note that the overall effect was reminiscent of one of my favorite restaurants in my former home town. OK, so it's not exactly fashionable Shoreditch, but the retro-fashion and underground feel carries well from the Thames Estuary to heart of Moscow. The menu, too, has more than a hint of the gastro-pub about it - and in the best sense of the word. Naturally, a few bar-room staples endure, with burgers and fish'n'chips taking their place despite protestations that the food here cannot be found elsewhere in Moscow. But there's also an honorable mention for a pleasing selection of Mediterranean finger food and some inventive desserts to complement them. The bruschetta with beetroot, artichoke and parmesan was a curious beast: at its base it could hardly have been more Russian, with creamy, mayo-slathered beets that might have come straight from the local stolovaya; the topping of parmesan and artichoke, meanwhile, was a taste of another world - almost literally - offering a fresh waft of Italian flavor. It's also one of relatively few wholly vegetarian options on the menu, although the "wine plate" of tempting tidbits works as a sharing dish as long as someone is willing to hoover up the Parma ham.
For mains we picked out the fish and chips (sufficiently meat-free to suffice) and the duck leg. The former was a genuinely decent attempt at a tricky Brit standard. The chips were actual chips, rather than fries, although they might have benefitted from slightly longer in the fryer; the fish came in a recognizable batter, and despite appearing as a handful of fishy goujon rather than the more traditional single large fillet, worked as well as any attempt at this dish I've seen outside of its homeland. The duck was well-cooked to the point where it slipped easily off the bone as the first gentle probing of a fork, but might have benefited from a more astringent partner than a serving of herb-spattered mash. A side portion of fruity sauce helped, but could have gone a bit further, perhaps.
The highlight, though, came with the dessert menu. Fig in a dark chocolate coating, studded with crunchy grains of sea-salt, was a perfect combination of sweet and savory: a simple idea which could easily become a classic. But the star turn was the pear tart with rosemary ice cream. Leaving aside the slight sensory confusion at confronting a pot of something which looked like it should be mint-choc-chip flavored and tasted entirely different, this was a triumph. The ice cream was a delight - fresh, unexpected and well-matched to the residual sweetness of the tart.
Another pleasant surprise was the bill - the whole thing, accompanied by a bottle of cider, came in at less than 3,000 rubles (albeit helped by a couple of freebies from the kitchen, including a flagon of iced tea). That seemed to give the lie to some of the complaints on Afisha.ru about high prices - generally speaking they seemed to be in line for this kind of market in Moscow. Admittedly, there's no sign of a cheap beer - it's all imported Brit brews at around 300 rubles a glass, rather than fizzy Baltika at 120 - and the clothes store proudly insists that its prices will be kept relatively high to distinguish "vintage" (a premium market) from second hand (with its slightly shabby connotations).
All in all, despite the hipsterish pretensions, Oldich has plenty going for it - and its downtown location makes it a great place for a pre-party gathering, whether you're planning to stay there all night or head on to another venue later.
13.03.13