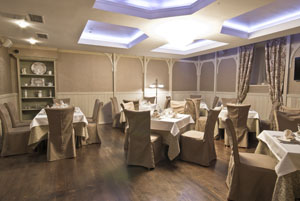 From reading its website, News and More (NM) had great potential. I really like the idea of a place to be able to relax, read newspapers and magazines, and take a time out from busy Moscow. However, what NM does not quite understand is that Moscow is full of places offering essentially the same vibe – they are called coffee shops and number in the hundreds, if not thousands, and with prices that are much easier on the wallet.
NM's website is better than most that I have seen, with a concise description of how to find the restaurant and a history of the building. The location is immediately on the Garden Ring near the American Embassy, but not especially close to any metro. Krasnopresnenskaya, Smolenskaya, and Arbatskaya are your closest metro stations, all of them more than a "five minute walk". Street parking can be problematic too since the building is located on an exit from the Garden Ring – if you do not find parking, you are either going right to Kievskiy Vokzal or left and around to the Garden Ring again.
From my glancing view, NM does have some cozy, darker sitting areas that would better fit its theme of relaxing pseudo-coffee and news shop. However, all of those areas are smoking areas, so we were led into a formal dining room. It was quite the contrast from what I had expected – closer to my grandma's stuffy dining room on a Sunday or a 50th birthday party in a nicely decorated Soviet Academy of Physics. That is, interior is "well done" on a standalone basis of cost of materials and composition, but it does not fit NM's theme or raison d'être really in any way.
In contrast, in Seattle there is a café with a similar theme called The Library Café. I was a there many times years ago, and I relish it to this day. Books, magazines, mismatched silverware, creaky tables, and awesome food at reasonable prices – truly a place where you could take oasis from a busy day.
This is what NM is trying to deliver – a kind of folksy, kick back with a newspaper place. A dining room with seemingly 5 forks, 5 knives, and all the other accoutrements expensive dining do not mesh with this mission statement. Either a place in going to be fine dining or not; it is virtually impossible to be both.
To the food specifics, however, and there are highlights, but these highlights were tempered with the huge amounts of dead time between dishes.
We began with an appetizer of
prosciutto di parma served on fresh melon
(420 RUB) and a
chicken quesadilla
(420 RUB). Upon finally arriving to the table, both of these were actually very good. I have had bad, but expensive, prosciutto in Moscow all too often; NM's prosciutto was just right. Quesadilla was served with 4 different sauces; I would readily order it again if dining at NM.
Borsch
(350 RUB) came much later – kind of an encore to the appetizer, but still very distant to entrées that would arrive at some point in the distant future.
My dining partner ordered
sea trout
(690 RUB) that was served with vegetables and pineapple sauce, and I opted for the signature
cheeseburger with country fries
(490 RUB) upon reading the inviting description in the menu.
The sea trout was rated excellent in terms of taste, presentation, portion size, and the composition as a whole – good vegetables, sauces, and flavorful resonance.
My cheeseburger was likely the only time that I have not finished a cheeseburger ever in my life. First and foremost, the waiter did not ask how I wanted it cooked, and, from the receipt, decided that I must have looked like a "medium rare" carnivore. I remember after the first few bites – and, heck, it had been about 45 minutes since the borsch, or so it seemed, and I was hungry – I said, "Really, this tastes horrible, if you can call having no taste a distinctly horrible taste."
Maybe the cheeseburger would have tasted as good as it looks on the website photos if it HAD BEEN COOKED. Since I have no basis of comparison, I have to give it a nearly 500 ruble failing grade and consider myself lucky that I did not order the steak, as it would have likely came freshly hacked from a bloody side of beef, slapped on the grill for five seconds, brought out on a fancy plate, and put between fork number 4 and knife number 3 on the table.
For dessert, we chose one
crème broule
(190 RUB),
Americano
(100 RUB), and
latte
(250 RUB). At that point, dessert was an unsmiling asterisk to a two hour dining experience that should have taken about an hour, such a long period in which I would have thought my cheeseburger could have been cooked properly. Dessert and coffee were fine, but, again, like having dessert and coffee in my grandma's stuffy dining room.
The check came, and we were ready to go. A part of me wanted to explore the establishment to be able to offer a more robust review, but a much bigger part of me just wanted to find the car keys faster, followed by the door. It would have been nice if, at some point in the marathon, the manager – or, ahem, even our waiter – would have come up and asked how things were going or attempt to tell us more about NM. Total bill was 3360 RUB plus gratuity (which I left grudgingly); I would have valued the experience at much less and would have walked out about 45 minutes into the meal.
In closing, NM falls into the category of restaurants that I would recommend only to a very limited number of people and with qualifications. If you are near the American Embassy and want a place with good WiFi and coffee, check out NM. If you are near the American Embassy and want a place offering a reasonable value proposition AND good food, check out Novinsky Passazh, namely Mamina Pasta. Hopefully NM finds its religion in the future, but I will not be rushing back to find out for myself.
22.08.11