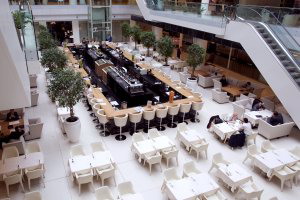 The May holidays had just begun on May 1st, and it was time to visit Novinsky Passazh and Clumba Club for dinner. In the days before, I had taken the time to review Clumba Club's website – very sleek site with relevant information. I have had dinner several times at the Mamina Pasta on the atrium floor as well, but never since Clumba Club had opened, so I was intrigued.
Upon arriving, my dinner date and I found the lay out and ambience appealing. Clumba Club is a very "open" restaurant with a smoking section that is completely separate from the atrium dining area. As a diner, the atrium location gives you an immediate sense of relaxed calm, even if the shopping center itself were to be bustling with people. The tables are big, the seating is deep and comfortable, open-space acoustics are conducive to conversation, and Wi-Fi readily available.
On that note, I would not say that Clumba Club itself is boring, but it was absolutely dead on the evening we were there, as we were, literally, the only diners. I attribute this mainly to it being May 1st, but maybe Clumba Club is generally slow.
In the wake of our evening there, and quite frankly, I have found it difficult to find inspiration to pen this review. Not "writer's block" – instead, I have just found it exceptionally hard to put a finger on "what" Clumba Club is or is trying to be.
To wit, there is a huge assortment of items to choose from on the menu. Clumba Club covers surf, turf, and damn near everything else under the sun. While this is good – at least as long as the selections do in fact deliver – it does little to define a restaurant. An Italian place has pasta, a Japanese place has sushi, an American diner has burgers – and it's almost like Clumba Club is trying to be all of these at one time.
The food, without qualification, was good. Expectations were met, and even exceeded.
We started with two appetizers – a
parmesan ham platter
(220 RUB) and
Tashkent tomatoes stuffed with suluguni cheese
(410 RUB). Appetizers came quickly, almost with our fresh strawberry (175 RUB, .5L) and melon (275 RUB, .5L) drinks and were a great start to the meal.
I had planned on ordering a coterie of oysters since Clumba Club is, or at least is becoming, known for its oyster selection. However, and no fault of Clumba Club's, the news of Fukusima has turned me off to anything labeled Japanese for the time being, especially your basic water filters in hard shells.
Now for a dose of irony – I followed up my "nyet" to oysters with a "da" to a piece of
tuna sushi
(110 RUB) and
smoked eel sushi
(110 RUB), as well as a
Philadelphia roll
(420 RUB). My rationale was, well, weak – but I am a sucker for good sushi, and somehow sushi made the cut, but raw oysters did not. The sushi was exceptional, but I have resolved since then to take a break from the Empire of the Sun – it's the sourcing of the seaweed wraps, as well as the seafood itself that gives me pause, and I have a hard time believing that any restaurant in Moscow – or the USA or Europe, for that matter – can guarantee the sourcing, short of a Geiger Counter next to the soy sauce.
My dinner entree reflected my fresh Talk with Jesus, and I went with
beef stroganoff
(760 RUB), another step forwards in the muddled culinary theme of the night. My lovely dinner date chose a
filet of megger fish
(1350 RUB) after we had a lengthy discussion with the waiter and our iPad to determine its advertised Spanish pedigree was believable.
Beef stroganoff is easily one of my favorite dishes in the world, and while most restaurants can deliver an acceptable stroganoff, Clumba Club has an exceptionally good stroganoff. The megger was also highly-rated, but since I was a new convert away from seafood, even the Spanish variety, I did not partake.
We followed our entrees with a
raspberry and mint tea
(450 RUB) for my lady and an
Americano
(150 RUB) for me, as well as
milfee with berries
(450 RUB) and
tiramisu
(390 RUB) as dessert to be shared.
Again, everything about the meal was enjoyable – quiet atmosphere, tasty food, and attentive service. We spent nearly 3 hours at Clumba Club– much to our surprise – but I still walked away with a sense of unremarkable. Call it a positive unremarkable since everything was fine, but the essence remains the same.
During the past week as I have gathered my thoughts for this review, I have found that I have few poignant thoughts with regard to Clumba. The final bill was 5390 RUB, or about $200, and that, quite frankly, seems expensive to me. Yes, Clumba Club delivered on what a restaurant is "supposed" to deliver upon – food, service, and atmosphere – but was a somewhat forgettable, or at least not memorable, dining experience.
All of that being said, I do fully endorse Clumba Club and would like to try it again on a non-holiday weekend since maybe it will be more lively – most likely for a business lunch type meal in the cafe portion. The location is convenient, especially if you have a larger party, and you will be served high-quality offerings. If, on the other hand, you want more of a people-watching or high-energy affair, then Clumba Club will probably disappoint.
12.05.11