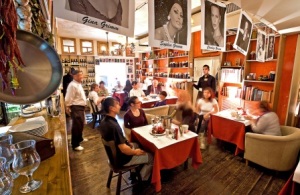 Do not let the name turn you off – there is nothing grim about Sisters Grimm (SG). While not out of a fairy tale like the Brothers Grimm, SG is a great place to peacefully spend an hour or two in the chaos of downtown Moscow. I will not hide it – I liked SG a lot, and if really good food and a relaxed atmosphere are your culinary opiate, you can stop reading now. Call SG, get a table, and you will walk away happy.
Going into this review, I did not quite know what to expect. My last review was an encounter with the worst, expensive burger that I have ever had, anywhere, so when SG prominently touts its burgers on its website, I thought, "Oh, great, more 500-600 ruble dung in a bun."
Location for SG is tricky, and not tricky at the same time. From a map, you can understand where it is located, but the street view is different. We took the metro and enjoyed the short walk. On our next visit to SG a few days, we drove – and finding parking can be a minor headache, so diner bewares.
Walking down Stoleshnikov, the pedestrian arch to SG is on the opposite side of Simachev Bar, about mid-way down the cobblestone lane. Looking through the arch, you will see Gogol Café – walk towards Gogol Café, go around it to the right, and the bright pastel colors and latinesque music mean SG is near.
The interior – or rather, exterior – of the summer veranda is a refreshing break from many stuffy or crowded Moscow summer seating areas. Over the course of the meal, we commented to each other that, "This just does not feel like downtown Moscow." I said it feels like a seaside alley in Croatia or Venice; my dining partner agreed, but said it seemed more like a pleaantly secluded summer spot you are apt to find in Saint Petersburg.
Inside SG the motif is rather carefree with specials written on the wall and ample seating. I venture that SG is also very pleasant in the non-summer months. A window seat on a nice snowy day with flakes coming down like Pacino in Scarface comes to mind.
From the minute we approached SG, we were greeted by a friendly hostess who not only made sure we found a table just right for us, but actually explained the specials for the day and other menu offerings. This is in stark contrast to the "hostess sits you down and flees, and waiter comes 5-10 minutes later (and is clueless)" at many Moscow restaurants as of late.
I asked her what she recommended, and she told me all 4 sangrias are good. Moreover, she told me why, and I settled on the
cherry sangria
(180 RUB) for the opening salvo. My dining partner went with a mouth-watering
strawberry smoothie
(250 RUB).
In general, I can tolerate – although not happily – really bad service if the food at a restaurant is even better. SG, thankfully, offers both attentive staff and food that is off the chart. And, honestly, what really matters at a restaurant when the check arrives is whether the food was good or not.
SG offers a diverse menu with hot and cold appetizers, salads made to order, and soups. I chose a
salad with beef
(340 RUB) and my dining partner went with a
beet and cheese salad
(320 RUB). While the names are remotely appealing, at best, in English, the salads were exquisite. I commented that mine was a perfect mix of tangy and sweet. The beet salad had two awesome cheeses – I believe goat cheese and a sharp parmesan type – and my fork was deftly fended off several times during repeated incursions.
We also ordered a
quiche with eggplant
(180 RUB) since the description begged us to try it. While the quiche met expectations and was good on its own, I would suggest instead getting a different salad from the menu to share – the salads truly are refreshingly good. A complimentary basket of fresh bread was served the salads and quiche also.
At that point in the meal, I was already raving about how "I really like that place" and already texting friends that we should meet up at SG later in the week, as none of them had heard of it either.
For entrées, we went with the aforementioned duck, duck, lamb – my dining partner chose the
leg of duck
(455 RUB) with
grilled vegetables
(180 RUB), and I went a bit out of my comfort zone and chose the
Dagestani burger with lamb
(495 RUB). And, thus the Lamburger Revolution began – with an innocent, "I think I will try this…"
The lamburger was the best burger I have ever had in the past 30-plus years of gorging myself on nearly every kind – or so I thought – of burger in North America, Europe, or Russia. If it is red meat or airborne, I was under the impression that I had eaten it before SG, and I was wrong.
The lamburger tramples all Moscow places offering expensive burgers. Chicago Prime, Frendy's, and Starlite – all very good burgers. However, the lamburger at SG puts them all to shame from the first bite. To top it off, it is served with enough ketchup to make my heart smile since neither rationing for my fries AND burger nor paying an additional side charge was required. Call it the ketchup soapbox upon which all burger joints in Moscow are judged – and Starlite's bottle of ketchup on your table reigns king – but I am tired of paying what amounts to $3-4 for ketchup on a burger that is already costing me about $15.
The duck received very high marks too – and I ate a good portion of the grilled vegetables. Duck is not in my culinary starting line-up, but my lady loves it. To wit, last time we had duck as paying customers, she said it tasted like one of the ducks that eat garbage in a drainage pond, so she said never again. However, SG was given the chance to save, or not save, all the ducks in Moscow, and SG delivered admirably.
I followed with a
white wine sangria
(180 RUB) and
carrot cake
(210 RUB) for dessert; my dining partner went with a
fresh lemonade
(180 RUB) and
blueberry crème pie
(195 RUB). While at this point already satiated, the drinks and dessert were superb.
In closing, total bill was 3165 RUB. For the quality of food and refreshingly non-Moscow atmosphere, it would have been well worth it even if we were paying customers. To this extent, we were back two days later with friends, and I relished the opportunity to give SG more hard-earned money because SG both values the business and delivers a mouth-watering, good memory-forming dining experience, and the second time was just as good as the first.
29.08.11