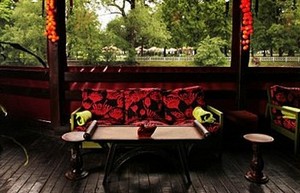 This has been one of the rainiest summers I can remember in Moscow. I am not used to carrying around umbrellas in the summer, and unfortunately have a habit of constantly forgetting them when I do – already on my fourth one. Thankfully we finally now seem to be seeing real summer weather, providing this often grey city and its inhabitants the opportunity to enjoy the outdoors and its many outdoor cafes that sprout up in summer like mushrooms after a, er, hard rain.
Lebedinoe Ozero
, "Swan Lake," is one such cafe worth a visit – even if the skies are cloudy. Nestled in a corner of
Neskuchny Sad
behind Gorky Park, on the bank of the Golitsyn Pond,
Lebedinoe Ozero
provides a quaint sanctuary from Moscow's bustle, and a quiet, more civilized spot away from some of Gorky Park's carnival atmosphere establishments and crowds. The fact that
Lebedinoe Ozero
is not easy to find is in fact one of its highlights.
Created by the same folks who brought this city
Solyanka
(see my past review) and the successful project club
Kak na Kanarax
of last summer that was moored a stones-throw away nearby on the Moscow River,
Lebedinoe Ozero
is a unique fusion mix of food and interior. Outfitted with rustic wooden furniture from Thailand, a tiki torch lighted walkway, sheet metal roof, bright fabrics and pillows, and even a small swimming pool,
Lebedinoe Ozero
recreates a summer vacation atmosphere of a small, hidden beachside hut you would retire to after a day of swimming in the surf, or – as we did – spending a relaxing rainy afternoon waiting for grey clouds to pass.
With summer sandals on our feet, my dinner companion – one of Moscow's PR professionals (what's with all the PR people in Moscow these days?) - and I enjoyed a recent cloudy Sunday afternoon under
Lebedinoe Ozero's
tin roof contemplating our summer vacation plans. Although quite easily accessible by the pedestrian bridge connecting Neskuchny Sad with Frunzenskaya Naberezhnaya, we arrived via car (convertible in fact, courtesy of my PR companion, to add to the inner vacation experience) through a hidden driveway of off Leninskiy Prospekt and parked under said bridge (courtesy of a 100 ruble note to a park security guard who suddenly appeared).
The open-air restaurant is sheltered by a small thicket of trees, and appears as if a clearing in a small "jungle a la Russe." We settled in at a slab wooden table overlooking the pond, an idyllic scene completed with weeping willows whispering in the breeze, a mother duck and her chirping ducklings, and the namesake swans gliding about on the water's surface. The menu, not too surprisingly, resembled that of Solyanka's, a mix of Asian, European, Russian-Caucasian (lyula kebab, 360 RUR, and Osetinskiy Pirog, 320 RUR), and Lebanese. As if an answer to my scorn for pseudo-Japanese cuisine in this city, there was – thankfully – no sign of Philadelphia rolls and other forms of ever-present Moscow sushi.
After ordering a pina colada (310 RUR) and a pot of tea (260 RUR) from their extensive cocktail & drinks menu (fresh juices – 280-390 RUR), we perused the eclectic selection of appetizers (160-640 RUR) including toast tips and salmon (240 RUR), tongue salad (360 RUR) and agreed on the hummus and pita bread (220 RUR) to encourage our appetites. The portion of hummus itself was in fact not enough for two, leaving us to cross swords of rather oily and chewy pita bread for every bit of the yummy bean paste goodness that, while tasty, was not quite at the standard of other hummus dishes around town.
I seemed to have lost that battle, but was soon consoled by what was perhaps some of the best okroshka (without meat – 250 RUR) – a perfect soup for summer (Russia at least does have soup right) - that I have had in Moscow. My dinner companion skipped ahead right to the main course of steamed salmon (420 RUR), a big succulent filet of pink fish flesh that received good PR at the table. Although the other main courses (290-470 RUR) of fish, chicken, and meat, were tempting, I gave into the appeal of a salad with sliced tuna (470 RUR) – another dish befitting summer.
The light summer meal made for an ideal way to spend a lazy Sunday afternoon, and for a few moments I felt as if indeed I was thousands of kilometers away in waterside cafe in southeast Asia waiting for the rain to pass and the sun to appear – and in fact it soon did, but not warming us enough to take a dip in the pool by the bar. However, the on-site Thai massage service – administered by, what I was told, true Thai professionals – was an attractive post-meal option that we did, alas, forgo this time.
Now that the sun and weather do seem to be giving us a real summer, I intend to make a return trip – perhaps as a pre-club spot for a long weekend night.
Lebedinoe Ozero
offers a good menu of some tasty dishes, but its true appeal is its relaxing, casual atmosphere for an evening with friends or an afternoon of summer dreaming. Alas, in Moscow, summer goes by much too fast. Enjoy it while you can.
27.07.08