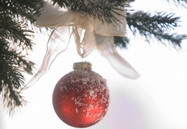 The Night Before Christmas, and all through the Site
Appeared the bright glow of a warm festive light
The Forums were full of fresh seasonal cheer
And even the Bardak crew stopped for a beer
The mistletoe's hanging, the tree is in lights,
So put away arguments, squabbles and fights!
To all on The Expat Site, Happy New Year!
Merry Christmas to everyone, both far and near!

Vacancies
The best people will always be in demand, so if you are seeking new challenges in your career or new outlets for your professional skills, let your mouse wander over to our Vacancies section, to find job openings posted and updated daily on The Moscow Expat Site. Vacancy of the day: A leading corporate & private foreign languages training provider is looking for native teachers of English. Teaching experience and internationally recognized certificates would be a distinct advantage. Part-time jobs, mornings/evenings available, competitive salary (from 2000 RUR per 90 minutes), academic support.

Culture Picks
Moscow's cultural scene is famously enormous and varied - but where to start? Our arts-savvy editorial team trawl what's on offer, to bring you our selection of Culture Picks for your leisure time.

Moscow Phone Directory
Got your finger on the butten? Now you can, using the Moscow Expat Site Phone Directory - a unique listing of expat-friendly services and organizations that will be of maximum use and benefit to you. All the numbers are updated for accuracy, and many offer English-speaking services. Do more and find more in Moscow, with the Phone Directory!

News Links
Hold the front page! Keeping up with news can be a full-time job in itself... which is why The Moscow Expat Site has a dedicated staffer sifting and culling from world media, so you don't have to! On our News Links page you'll find headline stories updated daily by 7 a.m., with clickable links that put you in charge - so stop searching and start finding!